Neubauer/Tessma
---
FATHER
Daniel NEUBAUER


b : March 1810 in Vandsburg, Kreis Flatow, Westpreußen
d : 6 January 1903 in Elmore, Faribault, Minnesota, USA
i : 9 January 1903 in St. John's Lutheran Cemetery, Elmore, Faribault, Minnesota, USA

MOTHER
Wilhelmine TESSMA


b : December 1810 in Vandsburg, Kreis Flatow, Westpreußen
d : 2 September 1878 in Ellice Township, Perth, Ontario, Canada
i : 4 September 1878 in Ellice Township, Perth, Ontario, Canada

MARRIAGE
1832 in Vandsburg, Kreis Flatow, Westpreußen, Deutschland

---
CHILDREN
Augusta NEUBAUER
b : 31 January 1837 in Zempelburg, Kreis Flatow, Westpreußen
c : 12 February 1837 in Zempelburg, Kreis Flatow, Westpreußen
d : 14 December 1929 in Blue Earth, Faribault, Minnesota, USA
i : 17 December 1929 in Immanuel Lutheran Cemetery, Emerald Township, Faribault, Minnesota, USA


Johann Frederick NEUBAUER
c : 8 September 1839 in Zempelburg, Kreis Flatow, Westpreußen


Anna Elizabeth NEUBAUER
c : 30 January 1842 in Zempelburg, Kreis Flatow, Westpreußen
d : 26 January 1874 in Logan Township, Perth, Ontario, Canada


Elisabeth Rosa NEUBAUER
c : 18 August 1844 in Zempelburg, Kreis Flatow, Westpreußen


Friederike Wilhelmine NEUBAUER
b : 26 September 1846 in Deutschland
d : 4 November 1929 in Elmore, Faribault, Minnesota, USA


Daniel NEUBAUER
b : 25 December 1849 in Vandsburg, Kreis Flatow, Westpreußen
c : 27 December 1849 in Zempelburg, Kreis Flatow, Westpreußen
d : 1 September 1916 in Canada


Julius NEUBAUER
c : 27 December 1849 in Zempelburg, Kreis Flatow, Westpreußen


Emelie Amalia NEUBAUER
b : 29 September 1852 in Zempelburg, Kreis Flatow, Westpreußen
c : 24 October 1852 in Vandsburg, Kreis Flatow, Westpreußen
d : 13 August 1932 in Almena, Barron, Wisconsin, USA
i : 16 August 1932 in St. Matthew's Lutheran Cemetery, Almena, Barron, Wisconsin, USA


William NEUBAUER
b : about 1853 in Deutschland

---
NOTES
The ship "America" set sail from Bremen, Germany and stopped in Southampton, England, before arriving in New York on 16 April 1869. On board were Daniel Neubauer (age 57), his wife Wilhelmina Tesma Neubauer (age 56), and their children Emilie (age 17) and William (age 16). Also travelling with them were their married daughters with their families: John Weise (age 33), his wife Augusta Neubauer Weise (age 32), and their children August (age 8), John (age 6), Gustave (age 4), and William (age .11); August Mueller (age 29), his wife Elizabeth Neubauer Mueller (age 27), and their children Auguste (age .11) and William (age .11). The families entered Logan Township in Ontario on 26 July 1869.

Daniel Neubauer died at the age of 91 years, 9 months, 26 days. He was buried in a churchyard just outside Elmore, Minnesota.

Wilhelmine Tesma died at the age of 66 years, 8 months, 17 days.

With the redrawing of national borders following World War II, Vandsburg and Zempelburg now are located in Poland. Vandsburg is called Wiecbork and Zempelburg is Sepolno Krajenskie.
---
RELATIONSHIP
David Neubauer and Wilhelmine Tessma are the g-g-g-grandparents of Lynne Marie Stockman.
---
SOURCES
---
[Meet the Family!] [Surname List] [Family Group Records]
---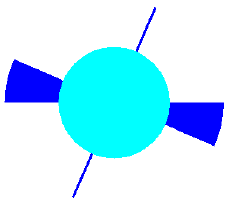 Copyright © 1995-2003 by David Harper and Lynne Marie Stockman
All Rights Reserved
Designed and maintained by Obliquity
Last modified on 1 January 2003
http://www.obliquity.com/family/records/neutes01.html