Weise/Neubauer
---
FATHER
Johannes Wilhelm WEISE
b : 28 November 1834 in Radomski, Westpreußen
d : 27 October 1926 in Blue Earth, Faribault, Minnesota, USA
i : 29 October 1926 in Immanuel Lutheran Cemetery, Emerald Township, Faribault, Minnesota, USA

MOTHER
Augusta NEUBAUER
b : 31 January 1837 in Zempelburg, Kreis Flatow, Westpreußen
c : 12 February 1837 in Zempelburg, Kreis Flatow, Westpreußen
d : 14 December 1929 in Blue Earth, Faribault, Minnesota, USA
i : 17 December 1929 in Immanuel Lutheran Cemetery, Emerald Township, Faribault, Minnesota, USA

MARRIAGE
20 April 1858 in Deutschland
---
CHILDREN
Anna Caroline WEISE
b : 1858 in Neu Lubzan, Westpreußen
c : 29 May 1858 in Vandsburg, Kreis Flatow, Westpreußen
d : before 1869 in Westpreußen, Deutschland


August Julius WEISE
b : 11 October 1859 in Lupochyn, Pommern, Deutschland
c : 30 October 1859 in Vandsburg, Kreis Flatow, Westpreußen
d : 25 April 1939 in St. Clair, Blue Earth, Minnesota, USA
i : 27 April 1939 in Immanuel Lutheran Cemetery, Emerald Township, Faribault, Minnesota, USA


Johann Wilhelm WEISE
b : 7 August 1862 in Neu Lubzan, Westpreußen
c : August 1862 in Vandsburg, Kreis Flatow, Westpreußen
d : 29 May 1875 in Faribault County, Minnesota, USA
i : 31 May 1875 in Immanuel Lutheran Cemetery, Emerald Township, Faribault, Minnesota, USA


Gustav Julius WEISE
b : 19 August 1864 in Wittesor, Westpreußen
c : 25 September 1864 in Vandsburg, Kreis Flatow, Westpreußen
d : 20 April 1932 in Blue Earth, Faribault, Minnesota, USA
i : April 1932 in Immanuel Lutheran Cemetery, Emerald Township, Faribault, Minnesota, USA


Wilhelm Friedrich WEISE
b : 12 November 1866 in Wittesor, Westpreußen
c : 25 November 1866 in Vandsburg, Kreis Flatow, Westpreußen
d : 19 April 1955 in Rice Lake, Barron, Wisconsin, USA
i : 22 April 1955 in St. Matthew's Lutheran Cemetery, Almena, Barron, Wisconsin, USA


Heinrich Eduard WEISE
b : 28 July 1869 in Faribault County, Minnesota, USA
d : 14 August 1946 in Rice Lake, Barron, Wisconsin, USA
i : 17 August 1946 in St. Matthew's Lutheran Cemetery, Almena, Barron, Wisconsin, USA


Theodore Herman WEISE
b : 4 March 1871 in Emerald Township, Faribault, Minnesota, USA
c : 26 March 1871 in Immanuel Lutheran Church, Emerald Township, Faribault, Minnesota, USA
d : 30 January 1952 in Washington, USA
i : 1952 in Minnesota, USA


Paul Levi WEISE
b : 16 April 1874 in Emerald Township, Faribault, Minnesota, USA
c : 26 April 1874 in Immanuel Lutheran Church, Emerald Township, Faribault, Minnesota, USA
d : 18 August 1917 in Good Thunder, Blue Earth, Minnesota, USA
i : 21 August 1917 in Immanuel Lutheran Cemetery, Emerald Township, Faribault, Minnesota, USA


Robert Emil WEISE
b : 25 February 1876 in Faribault County, Minnesota, USA
c : 24 March 1876 in Immanuel Lutheran Church, Emerald Township, Faribault, Minnesota, USA
d : 29 December 1945 in East Chain, Martin, Minnesota, USA
i : 31 December 1945 in Immanuel Lutheran Cemetery, Emerald Township, Faribault, Minnesota, USA


Emma Augusta WEISE
b : 21 April 1878 in Blue Earth, Faribault, Minnesota, USA
c : 19 May 1878 in Immanuel Lutheran Church, Emerald Township, Faribault, Minnesota, USA
d : 27 August 1960 in Winnebago, Faribault, Minnesota, USA
i : 30 August 1960 in Immanuel Lutheran Cemetery, Emerald Township, Faribault, Minnesota, USA


Ida Wilhelmine WEISE
b : 17 January 1885 in Blue Earth, Faribault, Minnesota, USA
c : 8 February 1885 in Immanuel Lutheran Church, Emerald Township, Faribault, Minnesota, USA
d : 16 March 1983 in East Chain, Martin, Minnesota, USA
i : March 1983 in East Chain, Martin, Minnesota, USA

---
NOTES
Johannes Wilhelm Weise was the son of Johann Jacob Weise.

The ship "America" set sail from Bremen, Germany and stopped in Southampton, England, before arriving in New York on 16 April 1869. On board were Daniel Neubauer (age 57), his wife Wilhelmina Tesma Neubauer (age 56), and their children Emilie (age 17) and William (age 16). Also travelling with them were their married daughters with their families: John Weise (age 33), his wife Augusta Neubauer Weise (age 32), and their children August (age 8), John (age 6), Gustave (age 4), and William (age .11); August Mueller (age 29), his wife Elizabeth Neubauer Mueller (age 27), and their children Auguste (age .11) and William (age .11). The families entered Logan Township in Ontario on 26 July 1869.

With the redrawing of national borders following World War II, Vandsburg and Zempelburg now are located in Poland. Vandsburg is called Wiecbork and Zempelburg is Sepolno Krajenskie.
---
IMAGES
---
SOURCES
---
[Meet the Family!] [Surname List] [Family Group Records]
---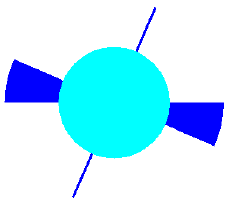 Copyright © 1995-2003 by David Harper and Lynne Marie Stockman
All Rights Reserved
Designed and maintained by Obliquity
Last modified on 1 January 2003
http://www.obliquity.com/family/records/weineu01.html