Obituary : Joseph C. Stellpflug
Ill several years with an insidious malady, Joseph C. Stellpflug, for 13 years a resident of Galesville, died at his home here early Tuesday morning, November 21. Although able to be about town until Saturday before the end, his condition had long been precarious. Mr. Stellpflug, a son of Mr. and Mrs. John Stellpflug, was born on the old farm east of Galesville November 23, 1870. He passed on two days in advance of his 63rd birthday. Reared in the community known as the Grant district, he married Miss Elizabeth Grant January 8, 1902, at St. Bridget's church in Ettrick. This was their home until 1920, when the family came to Galesville, where Mr. Stellpflug for a number of years was engaged with Lewis Twesme in the farm machine trade which he continued until his health failed. With his good nature and pleasing personality he was ever a popular salesman and assistant. He was active in the affairs of St. Mary's congregation and for a long period was the church treasurer. Mr. Stellpflug is survived by his wife and and one child,

(Private)

. There are two brothers: John, of Galesville, and Francis, LaCrosse. Six sisters are Mrs. Mike Brophy, Mrs. Alfred Emerson, and Mrs. Clarence Brown, Gale; Mrs. Edward Hanson, LaCrosse; Mrs. Louis Larson and Mrs. Lester Dick, Ettrick.
Newspaper :

(Unknown)

(Galesville, Wisconsin)
Date : 1933
---
[Meet the Family!] [Obituaries]
---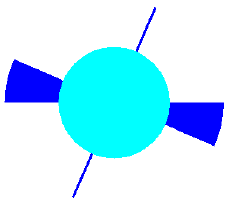 Copyright © 1995-2003 by David Harper and Lynne Marie Stockman
All Rights Reserved
Designed and maintained by Obliquity
Last modified on 1 January 2003
http://www.obliquity.com/family/obituary/stellpflug04.html