Obituary : Mary Rosetta Smith
Deaths
Mrs. Mollie R. Thornton
Mrs. Mollie R. Thorton, 92, 504 West 1st, died Tuesday morning at Grace Hospital. She had been in ill health for a year, and on Dec. 23, 1959, she fell and fractured her hip. She was born March 29, 1867, near Indianapolis, Ind., and had lived most of her life at Centralia, moving to Hutchinson in 1947. She was a member of the Christian Church. Her husband, Martin, died in 1902. Survivors are three daughters, Mrs. J. H. Smith, 512 West 1st, Mrs. Tressie Crouse, 318 West 1st, Jessie, of the home; two sons, Vern, Hornton, Byron, Boise, Idaho; one half-sister, Mrs. Jennie Labbe, Onaga; one half-brother, William Smith, Atchison; three grandchildren and six great-grandchildren.
Funerals
Mrs. Mollie R. Thornton
Funeral for Mrs. Mollie R. Thornton, 504 West 1st, who died Tuesday will be at 2 p.m. Friday in Elliot and Gard Chapel with Rev. T. J. Bennet officiating and burial in Fairlawn Cemetery.
Newspaper :

(Unknown)

(Kansas)
Date : 23 February 1960
---
[Meet the Family!] [Obituaries]
---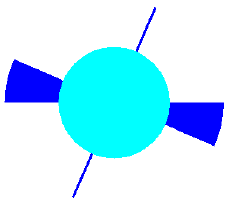 Copyright © 1995-2003 by David Harper and Lynne Marie Stockman
All Rights Reserved
Designed and maintained by Obliquity
Last modified on 1 January 2003
http://www.obliquity.com/family/obituary/smith03.html