Obituary : Dugald Junior Hagadone
Dugald J. 'Duke' Hagadone
Dugald J. "Duke" Hagadone, of Poplar, passed away Monday, Aug. 2, 1999, after a short, but courageous battle with lung cancer. The 78-year-old lifelong resident of Roosevelt County was born in Culbertson on Dec. 12, 1920. In 1933, along with his parents, Dugald C. and Mary (Salomonsen) Hagadone and other brothers and sisters, moved and began farming south of Poplar, between the Missouri and Poplar rivers. In 1938, Duke graduated from Poplar High School and began to farm and raise cattle. During this time, he also worked at Farmers Union Oil and Grain Company. At the time he married Nancy Mae Reid on May 8, 1942, he had become assistant manager at Farmers Union. On June 18, 1943, Duke was drafted into the Army Air Force. He attained the rank of staff sergeant and performed as an airplane armorer-gunner on B-52s. The crew successfully completed 35 missions during WWII. The close friendship with crew members continued throughout their lives. Upon his discharge in June 1945, Duke returned to his job at Farmers Union. In 1948, Duke and Nancy decided to make farming their occupation and eventually having the opportunity to purchase his father's farm allowed him to stay in the Poplar area and become a producer of spring wheat. In 1961, Duke and Nancy purchased the ranch where he was born. Duke thoroughly enjoyed raising Black Angus cattle. After retiring, he rented the farm and ranch to the eldest son, but continued to be active in riding horseback, his favorite hobby, and assisting in other ways. He was preceded in death by his parents; sister, Vernie, and brothers, Lawrence (Rhoda), Myron (Sue), Thorvald (Helen), William; and brothers-in-law, Herbert Brown and Maxwell and Thomas Reid. Survivors include his loving wife, Nancy,

(Private)

. Four grandchildren also survive:

(Private)

,

(Private)

,

(Private)

and

(Private)

; two great-grandchildren include

(Private)

and

(Private)

;

(Private)

; as well as numerous cousins, nephews, and nieces. A vigil will be held at 7 p.m. Thursday at Clayton Memorial Chapel in Poplar. Funeral services will be at 10 a.m. Friday at Our Lady of Lourdes Catholic Church with Fr. Michael Schneider and Pastor Audrey LaPore officiating. Military services will be conducted by American Legion Post 55 in which Duke was the oldest member. Interment will be in the Poplar City Cemetery. Clayton Memorial Chapel is in charge of arrangements.
Newspaper : The Billings Gazette
Date : August 1999
---
[Meet the Family!] [Obituaries]
---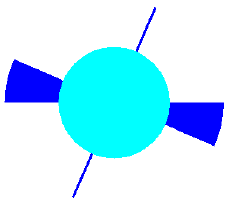 Copyright © 1995-2003 by David Harper and Lynne Marie Stockman
All Rights Reserved
Designed and maintained by Obliquity
Last modified on 1 January 2003
http://www.obliquity.com/family/obituary/hagadone22.html