Obituary : Carol Marjorie Borg
Carol Chubb
Bonners Ferry, Idaho
Private graveside service for Carol M. Chubb, 85, was Wednesday at Grandview Cemetery in Bonners Ferry. Bonners Ferry Funeral Home was in charge of arrangements. Born in Spokane, Mrs. Chubb died Sunday. She grew up and received her education in Peshastin, Wash., and was crowned Apple Blossom Festival Princess in 1933. In 1937 she married career newspaperman William Chubb, and they operated the North Idaho News, which was published three times a week in the Sandpoint area. The paper later became part of the Sandpoint News-Bulletin before they sold the business. Mrs. Chubb moved to Bonners Ferry in 1945 and operated the Beauty Nook hair salon. She and her husband later traveled extensively, with trips to Russia, Europe, Portugal, Spain, Turkey, South America, Scandinavia, and north of the Arctic Circle. She was a homemaker and taught Sunday school at the United Methodist Church and served as a Girl Scout leader. Her husband died in 1984. Survivors include

(Private)

; 10 grandchildren and six great-grandchildren.
Newspaper : Spokesman-Review (Spokane, Washington)
Date : May 2000
---
[Meet the Family!] [Obituaries]
---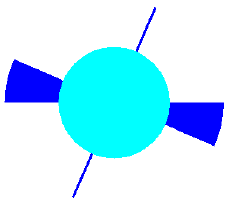 Copyright © 1995-2003 by David Harper and Lynne Marie Stockman
All Rights Reserved
Designed and maintained by Obliquity
Last modified on 1 January 2003
http://www.obliquity.com/family/obituary/borg01.html