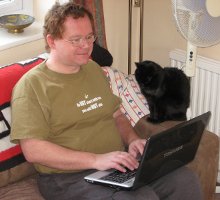 Welcome to the Cat Dictionary, a humorous collection of terms relating to our favourite companion, the cat.
Online since 1995, the popular Cat Dictionary is cited by web sites around the world and is even included at OneLook, a compendium of web-based dictionaries. The dictionary is under constant revision and is now lavishly illustrated with a plethora of pussy cats. You can even submit your own cat-dedicated words, the best of which are added annually to the Cat Dictionary Appendix.
So, sit back and browse through the only authorised (and up-to-date) version of the Cat Dictionary right here at Obliquity. I hope you enjoy reading it as much as I have enjoyed living and compiling it! Thanks for visiting.
Dedication
The Cat Dictionary is dedicated with great love and affection to Charlie Cat, Dinah, Kita, Molly, Oscar, Puff, Ralph, Rama, Shadow, Tigger, Turkey Grunt and all the others, without whom life would have been a lot less interesting.
Author's Note
The original Cat Dictionary was written during the summer of 1995 as a gift for my fiancé and as a memorial to beloved pets past and present. It also served to pass the time during my chemotherapy sessions. It went online in October of that year for the rest of the world to enjoy. Sadly, person or persons unknown pirated this first edition of the Cat Dictionary shortly after it appeared on web, deliberately removed my name and copyright notice, and posted it to various newsgroups.
An even more breathtaking example of plagarism occured in 2005 when a Varun Shastri lifted most of the contents of the Cat Dictionary and its appendices, and included it in his own book Academic Dictionary of Animals. It is outrageous that this person, described on the internet as a 'renowned teacher of science' and possessing 'a brilliant academic record', should have passed off my work as his own.
Just because something appears on the internet doesn't mean that it's in the public domain. As the copyright notice at the bottom of each page clearly states, 'Unauthorised reproduction in part or in whole in any format is prohibited without the written consent of the author.' I require that my rights to be identified as the author of this work and to be the sole publishing authority be respected. Short quotes are permitted under fair use policy but please cite the work appropriately.
Online citation

- A hyperlink similar to the following will be fine:

<a href="http://www.obliquity.com/cats/diction.html" title="Cat Dictionary">Cat Dictionary</a>
<a href="http://www.obliquity.com/cats/diction.html" title="Cat Dictionary">L.M. Stockman's Cat Dictionary</a>
<a href="http://www.obliquity.com/cats/diction.html" title="Cat Dictionary">Cat Dictionary at Obliquity.com</a>

Print citation

- You will have to follow your own style-book but the citation should contain the following elements, plus the date you visited these pages:

Stockman, L.M. "Cat Dictionary." Cat Gallery. Obliquity. Date accessed. <http://www.obliquity.com/cats/diction.html>.
If you've already reproduced sections of my work without proper citation, please provide the correct acknowledgements.