Meeus: Astronomical Algorithms
Astronomical Algorithms by Jean Meeus is a comprehensive collection of formulae and methods for calculating
Positions and phenomena of the Sun and planets
Positions and phases of the Moon
Julian Day Numbers and other calendrical data
Coordinate transformations
Positions of the Galilean satellites of Jupiter
And much more ...
Accuracy
The algorithms, whilst simple enough to understand and use, can provide a good standard of accuracy for most users. For example:
Planetary positions are based upon a truncated version of Bretagnon and Francou's VSOP87 theory. The estimated maximum error in the heliocentric longitude is several arc-seconds. Geocentric positions are accurate to within a few arc-seconds.
Lunar positions are calculated using a truncated version of the lunar theory ELP-2000/82 of Chapront-Touzé and Chapront. The estimated maximum error in the geocentric longitude is about 10 arc-seconds.
Phases of the Moon are based upon the truncated lunar and planetary theories. A comparison of the times of the four phases determined from the full theories with those from the simplified algorithm during the interval 1980 to 2020 yields a mean error of 4 seconds, and a maximum error of 17 seconds.
Sunrise and sunset times are affected by atmospheric refraction which cannot be modelled without local meteorological data. Times can be calculated to within the nearest minute, which is all that is required in practice.
Publisher
The book is published by Willman-Bell, Inc., who are based in Richmond, Virginia.


The company's web site contains full details of the second edition of the book, published in 1999.
---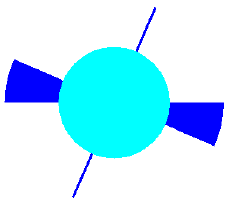 Copyright 1995-2003 by David Harper and Lynne Marie Stockman
All Rights Reserved
Designed and maintained by Obliquity
Last modified on 20 August 2003
http://www.obliquity.com/astro/meeus.html